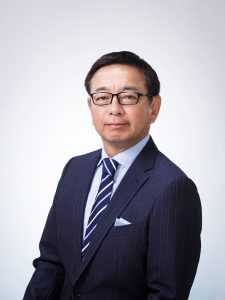 Make a brilliant society by light
Chairman Yoshiaki Ono
"Achieving a manufacture that no other company in the world can imitate"
Considering the history of the company, I wanted to manufacture cameras, but it is difficult to make it a viable business. However, I wanted to be involved in camera manufacturing. That passion shaped our business : "optical engineering technology," a fusion of lens and mechanical technologies that handle light as optomechatronics.
In this field of optical technology, our company aim to become the number one manufacturer of light-related devices such as digital cameras, copy machines, and barcode readers, that none other company in the world can imitate.
"Who protects the workplace should none other be the workers themselves"
To aim for a communal society in solidarity with customers, employees, and the local community is our management philosophy and also our company motto, "TOCOM Daily Pledge". An image of employees who contribute to the creation of a better society by seeking mutual trust, cooperation, and prosperity with the involvement of customers and local communities.
The company is a tool, and the employees are the ones who use the tool. Work does not come from the company's brand value, but from the trust of each and every employee. In other words, we aim for a company with customers entrusting our employees work because the person who the work was given to is none other than "Mr. Suzuki of TOYOTEC".
So, there are no time cards for employee management. Work is self-managed by each business unit in the workplace. Each work unit is like an independent company. It is the same as if they were producing and managing their own sales and profits. If we wait for instructions, we will not be able to respond quickly to the drastically changing industry. We want each business unit to work in response to daily technological changes.
We want to be a company with a system where we can produce our own products, make a profit, and pay our salaries. To achieve this, our employees can do whatever they want as long as the work is related to optical technology. In other words, "Who protects the workplace should none other be the workers themselves". It is a very tough workplace for employees because it requires them to independent in a sense.
"Light is a gift from the sun."
All light and energy is a gift from the sun. Collecting, releasing, and controlling that light is fundamental, and optomechatronics is the technology that supports it. I would like to continue manufacturing products related to this light.
The technology for handling light was established fairly early, with the camera lens being the technology for collecting light. Projectors were the technology to release it. Then, in the age of lasers, it was applied to copiers. The modern age is the age of technology to create and control light. Following lasers, LED (Light Emitting Diode) technology is drastically increasing in light production technology. Recently, white LEDs have been attracting attention. White LEDs are an alternative to lighting, and their use is expanding into automobile headlights and interior lighting. The significance of the company's existence is required in the development of this new technology.
I would like to find a job where I can contribute to the creation of a world full of light, and I believe that working with customers, the users, to realize my theories will lead to the achievement of my future dreams.