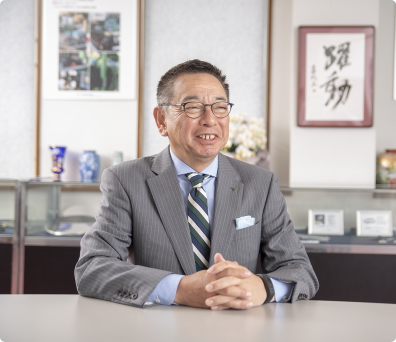 A Message to Our Customers,
"Make a brilliant society by light"
For the last 60 years, Toyotec Co., Ltd. has sought a vision that optical technology introduces a brilliant future to the world. We made relationships with the people cautiously, started many new businesses, produced place of motivating employees with skill and sound mind, created the new value of optics and precision from the same viewpoints as our customers, and grew all together.
Nowadays the business environment is going to change at top speed. We evaluate the optical and precision mechanical technology as our core competence and create our original eco system functioning from optical and mechanical design and development to manufacturing and quality assurance. Our business and engineering idea will enhance the value of light to the invaluable level with customers.
Our marketing and sales team strategically opened their wings from Japan, China to North America and Europe to meet a new business partner, and our production team set our factory portfolio in Japan, China and more. Our R&D team is always seeking new technologies and combing variations of optical engineering technology suitable to our customer's demand.
We believe technological innovation and digitalization in the future will impact our competence of optical technology and these changes will also influence human evolution and contribute to sustainable growth. We hope Toyotec will be acknowledged as one of the engineering players to make it valuable for customers and the world.
Chairman
Yoshiaki Ono