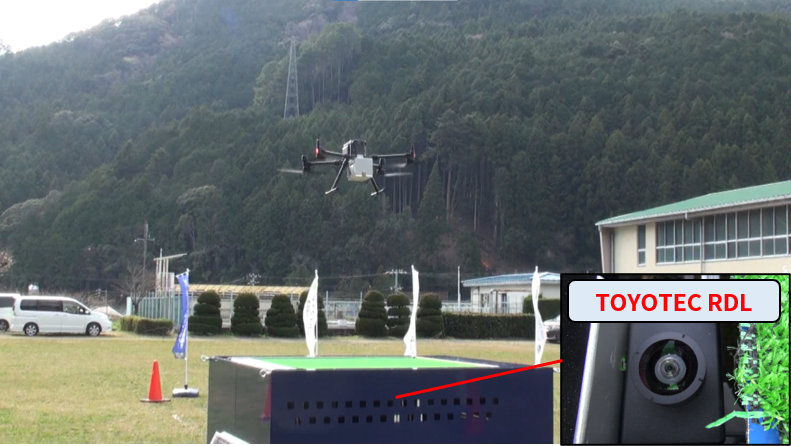 TOYOTEC participated in Drone Demonstration Experiment: "Transportation of goods between evacuation centers during a disaster in a depopulated mountainous area".
25/05/2021
On March 27, a demonstration experiment of drone flight was held by Drone River Higashi Mikawa, and TOYOTEC participated in this experiment as a participating company.
→
About Drone River Higashi Mikawa
We attempted to transport medical supplies using a drone on the assumption that roads and other transportation infrastructure would be blocked due to a landslide. The supplies were transported from the Ebi Structural Improvement Center in Shinshiro City, Aichi Prefecture, to the former Ebi Elementary School playground, a distance of one kilometer. The drone flew automatically along a pre-programmed flight route, landed safely at a drone port with a heliport function for takeoff and landing, and successfully transported medical supplies.
TOYOTEC's RDL Lens is participating in this joint development.
RDL(120° Ultra-low Distortion Lens)
https://www.toyotec.com/en/products/product-rdl/
【 The Higashiaichi Shimbun Press Article (Japanese) 】
http://www.higashiaichi.co.jp/news/detail/7739