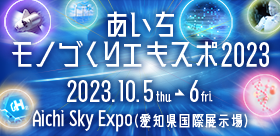 あいちモノづくりエキスポ2023に出展します!
19/09/2023
TOYOTEC
will be participating in Aichi Manufacturing Expo 2023 which will be held at Chubu Centrair International Airport on October 5th / 6th, 2023.
About Aichi Manufacturing Expo:
Aichi Manufacturing Expo is a significant gathering in the industry, serving as both an exhibition and a platform for business meetings. The event showcases the outcomes of extensive research, development initiatives, and demonstration experiments that have been supported by Aichi Prefecture's subsidiary aid. This makes it a unique opportunity for companies to present their cutting-edge innovations and developments to a diverse audience, including industry professionals, investors, and the general public.
TOYOTEC's Presence & Participation:
TOYOTEC's presence at the expo will be notable, as they are set to showcase a range of information and products, with a primary focus on the fields of optical and hard coating. This choice of emphasis reflects
TOYOTEC
's commitment to advancing technological frontiers, particularly in these specialized areas. Attendees can expect to witness the latest advancements and breakthroughs in optical and hard coating technologies, which are essential components in various industries, including optics, electronics, and precision engineering. TOYOTEC's participation in the Aichi Manufacturing Expo 2023 reaffirms its dedication to innovation and its role as a key player in the manufacturing and technology sectors. The event provides a valuable opportunity for TOYOTEC to connect with potential partners, customers, and collaborators, while also showcasing their contributions to the field, ultimately contributing to the growth and development of Aichi Prefecture's manufacturing industry. This event promises to be an exciting convergence of innovation, business opportunities, and collaboration, and
TOYOTEC
is poised to be at the forefront of this vibrant event. 【Exhibition Details】
TOYOTEC
will be participating in Aichi Manufacturing Expo 2023 ・Date : October 5th ~ October 6th, 2023 ・Place:Aichi Sky Expo (Located in Chubu Centrair International Airport) ・Official Website:
https://aimexpo.jp
・Our Booth: R-09 *TOYOTEC will be making a presentation about optical and hard coating on October 6th, 10:30 AM at Presentation Stage No.2