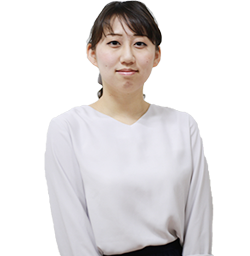 Overseas Sales Dept.
Risako Yamada
Graduated in International Studies
6th-year employee
| | |
| --- | --- |
| 8:00 | Mail Check |
| 8:30 | Phone Meeting with Client |
| 10:00 | In-house sharing of client mail |
| 12:00 | Lunch Break |
| 13:00 | Meeting at manufacturing factory |
| 15:00 | Gathering information internally to answer client mail |
| 17:00 | End of Work |
 On my days off, I go shopping and take Chinese language classes. This photo was taken when I traveled to Izu with my university friends.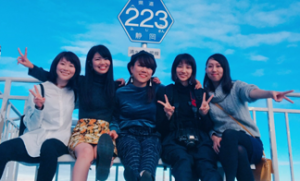 I work in a factory in China, working with the world.
I manage the schedule and provide support from the prototype stage to the completion of products ordered by customers at the factory in China. I am in charge of overseas customers from Germany, the U.S., and other countries, so I use English to communicate their requests to the factory, and when they visit, I have meetings with them and take them on factory tours. I sometimes face unexpected problems until the product is completed, but my job is to support the customer until the problem is solved and the product is completed by consulting with the customer, the factory, my seniors, and my supervisor. Although it is sometimes difficult to communicate with people from other countries due to differences in thinking, it is very stimulating because it broadens my thinking and perspective. I also feel that living in a foreign country has led to my growth in terms of language and cross-cultural understanding outside of work.
What was the deciding factor for you to join the company?
You can balance work and private life, and even travel overseas!
I have been interested in foreign countries and languages since I was a student, and I wanted to work with foreign people. I wanted to work with people from other countries, so I chose TOYOTEC. The main reason I chose TOYOTEC was that, unlike jobs in the airline or travel industry, I could work with people from other countries and not have irregular vacations. Another deciding factor for me was the opportunity to go on overseas business trips to Europe and the United States, which also made me want to work for TOYOTEC.
Please tell us about the appeal of TOYOTEC.
Supervisors and seniors who are easy to talk to. It's an easy working environment.
・You will be able to improve your language skills.
By using English every day to communicate with people from various countries via e-mail, phone, and sometimes in person, I have had more opportunities to learn different expressions and words than I had studied as a student, and I feel that I have been able to improve my language skills compared to before I joined the company. 
・There is a working environment where there are always supervisors and seniors who are easy to consult.
There are times when I have trouble making decisions or don't know how to deal with things on my own in the course of my work, but I never have to worry about problems on my own because they are always willing to help me with even the most trivial of consultations and provide concrete advice and solutions. I always have the support of my superiors and seniors, so I feel that it is a comfortable working environment.
Tell us about your future goals.
As an OJT for one year, I visited Japanese customers, visited their offices, and participated in exhibitions to learn the basics of what is necessary for sales. Currently, I am working in a factory in China to acquire more specialized knowledge and learn how to deal with overseas customers, and I am mainly dealing with products from prototypes to finished products. My goal is to build a better relationship of trust with customers so that I can become a sales representative that they can rely on. In addition, I am currently attending Chinese classes on weekends, and my goal is to be able to speak Chinese at a daily conversation level.
A Message to our Participants
Before I joined the company, I had no knowledge of the manufacturing industry or lenses, and I thought it would be difficult and impossible for me to learn all the technical details. I feel rewarded when I am able to work with customers and factory staff to complete a project while facing a variety of challenges until the final product is delivered to the market. If you like interacting with people and are interested in foreign cultures and languages, I think this is the job for you.