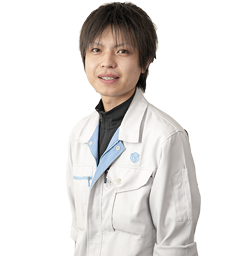 Manufacturing Dept.
Hidetoshi Tomida
Graduated in Applied Chemistry
9th year employee
| | |
| --- | --- |
| 8:00 | Morning Assembly |
| 8:30 | Document Preparation |
| 9:00 | Experimenting and Evaluating |
| 12:10 | Lunch Break |
| 12:50 | Document Preparation |
| 15:00 | Meeting |
| 17:00 | End of Work |
I spend the day doing housework and doing my hobbies. 
Thinking about production innovation and working on new technologies.
In my department, I am involved in coating lenses. By applying anti-reflective coatings and aluminum coatings, we are able to provide lenses with various light characteristics (reflectance and transmittance). I am mainly in charge of production technology, and based on the drawings and specifications requested by the customer, I examine and make proposals on setting standard values and designing coatings. In addition, I am in charge of integrating the manufacturing process into mass production. I am also in charge of the production innovation theme, which is to work on new technologies that are not available within the company.
What was the deciding factor for you to join the company?
It was close to my house...
Because the distance between my home and the company was close, and because I was relieved to hear that there would be training after I joined the company even if I did not have any specialized knowledge.
Please tell us about the appeal of TOYOTEC.
Being given work that requires a lot of responsibility.
As an employee, I am entrusted with responsible work. I know there are times when I feel pressured, but I find it appealing to be able to establish my own position in the work.
Tell us about your future goals.
My goal is to achieve the production innovation theme that I am currently working on. There were many things I didn't understand at first, but with the support of the people around me, I was able to get one step closer to mass production. I would like to communicate closely with customers and make proposals that will satisfy them even more. I also feel that I have not learned enough lately, so I would like to accumulate know-how and work consciously so that I can think from a new perspective.
A Message to our Participants
It's not often that you get a chance to interact with various companies after you become a member of society. If possible, I want to enjoy my work. It would be a shame to compromise and choose a company. I know it is hard to attend information sessions and find a company that meets your requirements, but this is an important time, so please broaden your horizons, think carefully about what kind of work you want to do, and do your best.