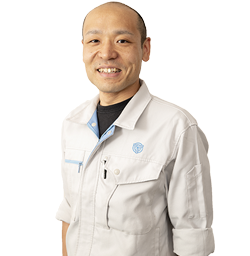 R&D Dept.
Takuya Sakata
Graduated in Electrical and Electronic Engineering
17th year employee
| | |
| --- | --- |
| 8:00 | Morning Assembly |
| 8:05 | Mail Check |
| 8:30 | Administration, meetings, and reports |
| 12:10 | Lunch Break ~ Post-lunch coffee and chat time |
| 12:50 | Administration, meetings, and reports |
| 17:00 | End of Work |
I enjoy working out at the gym and enjoying outdoor activities such as camping and BBQ with friends. I love music, so every summer I go to summer festivals such as FujiRock and SummerSonic to soak up the music. This photo was taken when I went to a music festival in Osaka.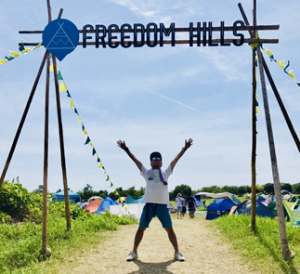 R&D / designing "as a team". It's a big accomplishment.
The R&D Dept., to which I belong, designs lenses for optical devices used in various markets. We often say "lens", but a "lens" is actually a combination of several lenses, and I am responsible for the optical design of those lenses, the structural design for assembling them, and the assembly technology for actually assembling and evaluating them. We do "contract work" where we design lenses based on the specifications given by the customer, and "development work" where we design lenses based on our own specifications and propose them to the customer. As a manager of my own department, I am currently in charge of managing the progress of contract work and promoting development work, mainly in the area of optical design. It is not possible for me to design a single lens and provide it to a customer by myself. To design a single lens and provide it to a customer, you can never do it alone; you must work as a team. As a manager, I was very happy to hear the words of appreciation from the customer, which gave me a sense of accomplishment at the same time.
What was the deciding factor for you to join the company?
I was really curious about this mysterious company in my local neighborhood...
This was because the optical equipment manufacturer I wanted to work for was located in my hometown. I was born and raised in Aichi Prefecture, and all of my friends in college were looking for jobs in the automobile industry. I was not particularly interested in the car industry, and I wanted to do something a little different. At that time, for some reason, I was somehow interested in the keyword "lens". Maybe it was because I was doing research on electron microscopes at the time, and terms like electrostatic lenses were mentioned. Or maybe it was because lenses looked like jewels and were pretty to look at? I don't remember the reason clearly, but as I was researching, I learned that lenses are very precise products, and I was thinking of finding a job in a company related to lenses, which are precise products. When I was applying to several companies, I found out that TOYOTEC, which was only a 30-minute drive from my house, was an optical equipment company, so I decided to join.
Please tell us about the appeal of TOYOTEC.
It's really easy to give out an opinion to our supervisors or executives.
The distance between employees and customers is close, and the environment allows me to do what I think, rather than what I am told. The distance from the design to the manufacturing site is very close, and I can discuss and create products together with the employees at the manufacturing site, and since I often have direct meetings with customers, I can directly discuss the customer's requests and my own opinions. I believe that I can do things on my own, not just what I am told, because I am in an environment where my ideas, which are born and cultivated in such an environment, are listened to closely by employees and executives alike. In addition, although we are in a niche market, since we have many overseas customers as well as domestic customers, I think it is also attractive that we are in an environment where we can be active worldwide, such as in Europe, the U.S., and ASIA, by traveling overseas and going to exhibitions.
Tell us about your future goals.
Our goal is to improve our own profits by providing better designs and products that satisfy our customers. I have been with the company for 16 years, but this is only my second year as a manager, so in order to achieve my goals, I would first like to learn management techniques as an individual, and work on strengthening within my own department, teamwork coordination, and cooperation with other departments. In terms of lifestyle, I would like to "always challenge new things". People who have experienced various things firsthand are attractive and interesting to others. I admire people like that, and I wish I could be like them. Oh, I just realized that this is also true for my work… (laughs).
A Message to our Participants
TOYOTEC's products are optical equipment products and products that we are not usually accustomed to hearing about. Most of the people who enter the company will be in a field different from what they have studied in high school or university, but I think that few of our senior employees have found a position where they can make use of their major. However, after joining the company, you will be able to play an active role through on-the-job training and external education, so I hope that you will not feel uneasy about applying. I think this is a workplace where each individual can take responsibility and where people who take on challenges can grow. In recent years, the speed of change has been increasing, so I hope you will do your best in your job hunting activities with your antennae high and with an interest in a variety of things.